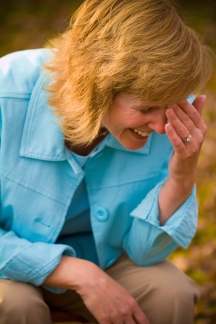 Carla is a committed follower of Jesus Christ with a passion for discipleship. This passion is demonstrated in her lifestyle, writing, and teaching. Carla has ministered to adults, children, and families for over 25 years, instilling in them this same passion of living for Jesus. It is her desire that all people would enter into a personal relationship with Jesus Christ, and for believers within her realm of influence to know how to live life "sold out" for Him. She has been married for over 30 years and has two married sons, and three grandchildren. Like the apostles, Carla is an "ordinary" person whom Jesus has equipped and empowered to do His will (Acts 4:13).
To diligently follow God's will is Carla's life ambition and her writing promotes godliness as a way of life. Through the practical use of God's Word others are trained to understand and apply its principles in their daily lives. Upon learning that the truth of God's Word is applicable for every circumstance and situation, her own life was changed forever. As a result, Carla found the application of biblical truths to be the alternative to being overwhelmed, frustrated, and disappointed by the difficulties of life and also the key to the victory Christ promises. Carla provides purposeful training for persons to practice truth in their lives, while learning to influence others to do the same. In teaching application of Scripture she trains others to fulfill the great commission, while they are learning to obey everything God commands.
Carla trains others in "godly" living through parenting seminars for parents of children of all ages, family seminars for parents and youth, grandparenting seminars, college and single women's retreats, evangelism and discipleship training, and church leadership seminars. Because the Bible teaches that everything we need for life and godliness is found in the knowledge of Christ, training others to know God's Word, surrender to His will, and apply His principles has great purpose in the lives of individuals and in God's kingdom. The thrill of Carla's life is seeing people develop godly lifestyles with the intention of living as Jesus desires.
Carla's book entitled Making Disciples: Applying Truth in Daily Living equips Christ-followers to develop genuine discipleship in their own lives and the lives of others. It was released in June, 2016. Her book Parenting Moment by Moment trains parents to apply truth in very practical ways in their lives and the lives of their children. It was released October 2010. Click here to learn more.
Carla's previous works — Seeking God Moment by Moment – Adult Edition, Seeking God Moment by Moment – Youth Edition, Where Are You Going? What Are You Doing? — will be available to download soon.
If you are interested in having Carla speak at your event, her books, or have another question or comment, please contact us using this form.