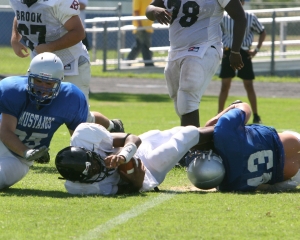 There are less than two minutes left in the fourth quarter of the football game and the team I've been rooting for, during the entire game, remains behind by four points. The opposing team has the ball and with every dwindling second it appears that they will once again be crowned city champs.
But then, something incredible happens….they fumble the ball…and….and…our team retrieves it. A roar erupts in the stands during the final seconds of the game as the home-team fans watch their team come from behind to win the game! This, my friends, is what many would call a "game changing" moment.
Perhaps you've experienced a "game changing" moment. You know, a moment in time that caused you, as well as perhaps others, to completely change the way something was thought about or acted upon.  There's one thing to note about game changers: Whether the result is a change in thought or in action, a game changing moment can affect outcome.
Parents, when your child receives Jesus Christ as Savior and Lord, it is a game changing, life changing moment. That period of time in a person's life is often referred to as "the moment of salvation". As significant as that moment is, Paul instructs us to continue to build on, rather than rest in, that  moment. In Philippians 2:12b-13 he writes: Continue to work out your salvation with fear and trembling, for it is God who works in you to will and to act according to his good purpose. Parents, are you training your children to work out their salvation on a daily basis? Are you teaching them to rely on Christ to complete His work in them?
Sometimes game changing moments are immediately celebrated, yet sometimes forgotten or merely commemorated, having no lasting effect. Rather than merely commemorating a child's salvation, parents have the privilege of helping their child to grow in his or her relationship with Jesus. The following truths are useful in helping your child understand what makes personal salvation a "game changer":
At salvation, a person receives the Holy Spirit (Ephesians 1:13-14, I John 4:13-16)
God deposits His Spirit within us, sealing our relationship with Him.
God's Holy Spirit provides us with all Christ's benefits (Colossians 2:9-10)
God provides to each of us everything necessary to live a life pleasing to Him.
Christ replaces our old sinful nature with His righteous nature (2 Corinthians 5:17)
Christ will teach us to live in our new nature as we consistently practice yielding our will to His.
God's Spirit works within believers to transform us into His image (1 John 2:3)
God's power will work in us as we rely on Him to do so.
The effects of the game changing gift of salvation can be realized each day as a child is trained to grow in his or her dependence on Christ.