I love the premise of the Staple's "easy" button. When things ever appear to be difficult or overwhelming they are made easy with just a click of the button. Although it may appear great in theory, we all know that reality does not afford such a "quick fix" to life's challenging issues.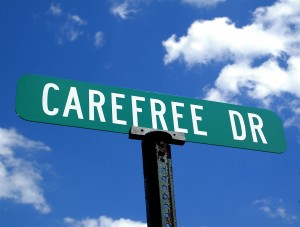 Instead, God provides us with the power of His Word and His Spirit. He may not choose to ease our circumstances, but He does promise to provide us with victory in them (John 16:33).
Victory begins with a mind set on God's perspective of life's issues, rather than our own. For example, the apostle Paul tells us in 2 Corinthians 5:7: We live by faith not by sight. This means that believers should choose to walk according to the truth God provides rather than be affected by the appearance of circumstances.
Joshua 6:2 records: Then the Lord said to Joshua, "See, I have delivered Jericho into your hands, along with its king and its fighting men." How amazing that Almighty God provided victory for His people. But, wait a minute—God told Joshua he had victory prior to the battle of Jericho . What an incredible God we have: One who provides His people with promises prior to adversity!
What difference would it make in your daily life if you chose to consistently stand on the promises of God? What would be the outcome if you taught your children to do the same?
To "stand on God's promises" is to take Him at His Word—to believe what He says and trust in it. For example, Deuteronomy 31:6 says: "The Lord himself goes before you and will be with you; he will never leave you nor forsake you. Do not be afraid; do not be discouraged." This promise tells us that we can choose to be confident in God's abiding presence and power rather than become afraid or discouraged.
2 Corinthians 9:8 tells us: And God is able to make all grace abound to you, so that in all things at all times, having all that you need, you will abound in every good work. How wonderful to know that regardless of the season, situation, or circumstance God is abundantly able to provide for your every need.
Another example of God's amazing promises is found in Philippians 1:6: . . . being confident of this, that he who began a good work in you will carry it on to completion until the day of Christ Jesus. Even though we may feel like failures and others may try to convince us that is so, we can be encouraged with this truth: God is never finished with the work He is accomplishing in us! We can confidently persevere even when we think we can't go on because of the power of Christ within us.
Believing God's Word by choosing to stand on His promises doesn't necessarily make life easier, but it does enable us to live victoriously and securely in Him!