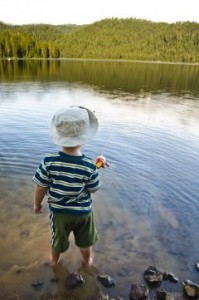 I love things that remind me of my grandpa; fishing is one of them. My grandpa was an avid fisherman—he would fish every opportunity he got. He was serious about fishing, yet he never entered a fishing tournament. He fished in many locations in his lifetime, but he never owned a fishing boat. He carefully considered his bait, yet he never used a rod or lure. You see, my grandpa followed closely in the steps of Jesus and chose daily to be a fisher of men.
Nearly everything I learned about fishing for men I learned from my grandpa, and I intend to pass these same truths on to my children and grandchildren.
In Matthew, Chapter 4, the Son of God was walking along the seashore among fishing enthusiasts. These men didn't just fish for fun and pleasure. They made their living fishing. In verse 19 Jesus said to them, "Come, follow me. . .and I will make you fishers of men." These men already knew how to fish, but Jesus wanted to teach them to fish with eternal purpose. Just as Jesus taught his disciples in Scripture, you have the opportunity to teach your children how to become "fishers of men".
Here are a few important lessons for novice "fishers of men".
Jesus is the Master Fisherman: The first key to learning to be a fisher of men is to choose to wholeheartedly follow Jesus. In following Jesus' example, you will be a role model for your children of a fisher of men (Mark 1:16-18)
Prepare to Use the Right Bait: A person becomes a follower of Christ by placing his faith in Him. Because faith is based on truth, our message to the lost must be solely based on the gospel of Jesus Christ (Romans 10:17). As you consistently share God's Word with those around you, you will be encouraging your child to include the sharing of truth in his conversations.
Get Among the Fish: In order to win others to Jesus, we must intentionally share His message of salvation with the lost (Luke 19:10). When you hear the phrase "a fish out of water" it refers to someone who is in a circumstance for which he is unsuited. You may want to use this phrase to help your child understand that we cannot expect those who don't know Jesus to look or act like him. Even though being among the lost can result in believers feeling uncomfortable, Christ has appointed us to live and operate among those living without Him. As a result, they will see Jesus in us and hear the truth as we share it with them.
Leave the Results to God: The Bible tells us that no one will come to Christ unless God the Father draws him. For this reason, we should do everything as God leads and leave the results to Him (John 6:44). In communicating this truth to your child, tell him that in the same way fisherman may have their favorite fishing holes and bait it is still the fish that chooses to bite. Similarly God alone works in the hearts of men who hear truth and accept His gift of grace, affording Him all the glory.
My grandpa and I had lots of fun being together when I was a child, but as I grew older I realized the influence he had on my life as I watched him consistently practice living and communicating truth. He never had any trophies, but he was the best fisher of men I ever knew.
Parents, those who fish are passionate about what they do. As Christ-followers, we are created to become fishers of men who rely on God to equip us with the tools and the passion to fulfill our purpose. Then, we are to train our children to do the same. Imagine intentionally hanging this sign on our front doors each time we leave our houses: GONE FISHIN'!