Do you enjoy viewing the highlight clips from sporting events? The enthusiasm, determination, and accomplishments captured on film typically spotlight above average athletic performances.
Although highlights are impressive, they don't reveal what took place in the days and years leading up to a specific performance. For example, highlights fail to show the hours of weekly practice or disciplined off-season workouts. They don't reflect an athlete's perseverance through set-backs such as injury.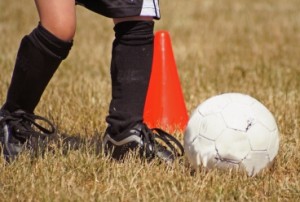 Make no mistake; the way an athlete performs in a game is the result of what he consistently practices. In other words, the way he performs in public is a direct result of his private lifestyle. Even so, the most gifted athlete must still make personal choices in order to excel when using those gifts.
Similarly, the way a child acts in public will depend on the habits he develops in private.
Contrary to what you may have been told: Practice does not necessarily make perfect. But, practice does make a person well prepared and equipped to achieve established goals.
God has established goals for His children. 2 Peter 1:5b-7 provides us with a sampling of these goals: Make every effort to add to your faith goodness; and to goodness, knowledge; and to knowledge, self-control; and to self-control, perseverance; and to perseverance, godliness; and to godliness, brotherly kindness; and to brotherly kindness, love.
Parents, if you expect your children to reflect Christ-like qualities in public, they will need to be developed in private. Also, the more they are practiced, the more recognizable these attributes will become in the life of each child. 2 Peter 1:8 further provides this promise: For if you possess these qualities in increasing measure, they will keep you from being ineffective and unproductive in your knowledge of our Lord Jesus Christ.
May we, as parents, be diligent in training our children to be effective and productive in their knowledge of our Lord Jesus Christ!
Image courtesy of CWMGary.