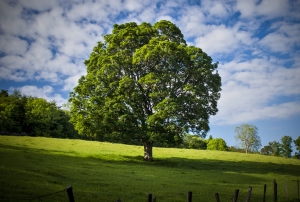 It's easy to imagine how the invisible God of the universe could seem far, far away to a small child. Because our loving God desires to have an intimate relationship with your child, it is beneficial to begin teaching children, at a young age, how very near and personal God actually is.
By using God's Word throughout the ordinary routine of each day, your child can begin to recognize the nature of God. For example, during breakfast ask your child if he or she knows what you have planned for the day? Then tell him that God already knows everything about our day. (Isaiah 46:10) You may want to point to Psalm 139:2: You know when I sit and when I rise. Explain that God knows when the exact time your child climbed out of bed and is fully aware that you are sitting down together to eat at this moment.
Create purposeful conversations as you travel and play with your child to remind him how much God wants to be a part of your lives. Psalm 139:2b-139:4: You perceive my thoughts from afar. You discern my going out and my lying down; you are familiar with all my ways. Before a word is on my tongue you know it completely, O Lord.
Find a spot of afternoon shade and encourage your child to recognize the apparent boundary it creates and the coolness and protection it provides. Then, remind him that in much the same way God is our shade throughout each day, not just in the afternoon. Psalm 121:5 tells us: The Lord watches over you—the Lord is your shade at your right hand. Consistently remind your child that wherever he goes the Lord is watching over him. As your little one grows, help him to understand that even when mom or dad cannot be with him, God is always near.
Consistently remind your child of the precious qualities you see in him. Point out that God created each of his characteristics with great purpose for His enjoyment. (Psalm 139:13)
As you wash your toddler's head, remind him that the Bible tells us that God knows the very number of hairs on his head. (Luke 12:7)
As you tuck your little one into bed at night, read to him short passages of Scripture such as Zephaniah 3:17: "The Lord your God is with you, the Mighty Warrior who saves. He will take great delight in you;…and will rejoice over you with singing." Let your child know that even while he sleeps God is with him.
As you talk with your child about the nature of God, continually point to the reason He desires to be involved in our lives. Jeremiah 31:3 says: "I have loved you with an everlasting love; I have drawn you with loving-kindness." God continually shows us His love throughout the moments of each day in order to draw us closer to Him. Teach your toddler that God loves us more than anyone else possibly could and desires to be near and dear to our hearts.