Sometimes I lose track of the last time I watered my house plants. I've learned, however, that a quick examination of the condition of a plant's leaves will let me know whether or not it needs to be watered. In fact, studying its leaves will tell me a lot about its wellbeing. Are the leaves turning under, turning yellow, or falling off?
I in no way want to make myself out to be a horticulturist. But, I do find it incredibly fascinating that since a plant's roots are not in view, our creator uses the leaves to provide us with a way of determining the health of a plant. God provides parents with a very similar way of determining a child's well being.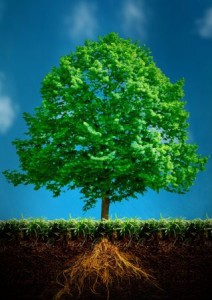 Even though parents cannot examine a child's inner motive, they can look at a child's actions and behavior to determine whether or not the child's motive is pleasing to God. As parents, it's important to remember that God is always most interested in the condition of our hearts. Therefore, as parents desirous of raising godly children, we should choose to get to the "root issue" of those actions in our children that oppose the character of God and His Word.
In Ephesians 3:17 the apostle Paul teaches that our lives should be rooted in love. Children who are firmly rooted in the love of Jesus:
Know that genuine love is demonstrated through obedience to God's instructions. (John 14:15)
Reflect the love of Jesus to others. (John 13:35)
Find complete security in Christ. (Jeremiah 17:7-8)
Sadly, apart from being rooted in God's love, a child will be rooted in self. His actions and behaviors will reflect his desires rather than God's will. As a result of a root system that is not nourished by Christ and His Word, a child will look to self and others for security.
Do you consistently examine your child's actions to see if they reflect the love of Christ?
Are you willing to get to the root of your child's behavior in an effort to promote long-term spiritual wellbeing?