Have you ever considered how extremely important the narrow line is between the two lanes of traffic on the highway? This simple line distinguishes two individual, separate directions of travel. Without that line, people would have difficulty distinguishing the area that is theirs to use.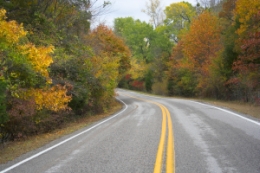 In the same way highways are divided for our protection, God desires for our lives to be divided out as we live for Him. In John 17:15-17 Jesus is praying to God the Father concerning His followers: "My prayer is not that you take them out of the world but that you protect them from the evil one. They are not of the world, even as I am not of it. Sanctify them by the truth; your word is truth."
 God doesn't want us to live isolated from the world, but desires that we be effective in the world for His kingdom. In order to do so, we must be set apart to follow a different standard than the world. By using the truth of God's Word we can draw lines in our life to differentiate the world's standard from God's standard. As we choose to follow His standard, we are being sanctified, or set apart to Him.
Parents, please be mindful of the significance the narrow line creates on a divided highway. If you are in the driver's seat and choose to cross the line, you take everyone else in the car with you, which could result in tragedy.
Similarly, God's truth separates us from the world, enabling us to live godly lives for Him. As a leader of your household, you have the potential to lead everyone in the direction you choose to go. Which way are you traveling?