What circumstances cause you to feel out of place? For me, it's being overdressed for a casual event or even worse, when I dress casually and arrive at a semi-formal affair. Perhaps you feel out of place watching a sporting event because you don't know or understand the rules. I presume many people feel out of place while in the company of people who cannot speak their language.
While it can be awkward and unsettling to feel out of place, what is most important is what we do with those feelings. We can either fight our feelings by creating ways to fit in, or we can learn from our feelings by asking God to reveal the source of our dissatisfaction. Hmmmmm…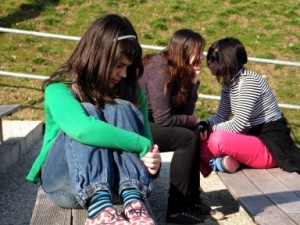 Apart from finding the place he or she belongs, a person will continue to feel unsettled, discontent, dissatisfied, and misfitted. The truth is: we were each created with a desire to belong and a place to belong. Consequently, we should look to our creator to learn where we are designed to fit.
Colossians 1:16 states: For by him all things were created; things in heaven and earth, visible and invisible, whether thrones or powers or rulers or authorities; all things were created by him and for him.
Did you catch that last phrase: Not only were we created by God, we were also individually created for Him. That means that the need to belong, that we each feel, can only be satisfied through a personal relationship with God. In turn, God will not only satisfy our longing to belong, He will faithfully meet our every need.
In Psalm 145:16 the psalmist writes: You open your hand and satisfy the desires of every living thing.
Where are you looking for personal satisfaction?
Some people will relentlessly pursue those things created for pleasure, but apart from God will find no genuine long-term contentment and satisfaction. Because we were created to belong to God, no person or thing of this world will completely satisfy our desires.
So, how do you recognize signs that you or one of your children is striving to fit in where you don't belong? Begin by opening your heart and allowing the Lord to help you truthfully answer the following questions:
Do you act differently depending on the group of people you are with?
Would you choose to compromise so that everyone will "get along"?
Are appearances more important to you than truth?
Do you ever try to hide your behavior or lifestyle?
Where do you turn to have your needs met?
Are you pursuing the things of this world or the things of God?
Belonging isn't a matter of feelings, appearances, or circumstances; it's a matter of certainty.  Those who accept God's gift of grace can know with confidence that they belong to Him (1 John 4:13).
Do you long to belong in the place you were created to be? If so, you can ask Jesus to become Lord in your life by relinquishing your will to His. Pursuing God's will, rather than your own, results in the promised blessing of true contentment and satisfaction.