I wonder how much time, money, and effort the average parent spends trying to keep his or her child safe?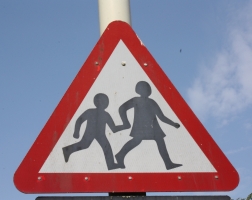 As parents, we watch over our children as they play, we fasten them securely in their seatbelts, we invest in knee pads, bike helmets and the like. And, although we are safety minded, there are no guarantees we can always keep our children shielded from harm.
Safety has been on the minds of parents dating as far back as the Old Testament. The Bible records in Exodus that at the time of Moses' birth, Pharaoh, the king of Egypt, ordered all Israelite male babies to be thrown into the Nile River. In an attempt to keep her child safe, Moses' mother hid him from everyone for his first three months of life. Exodus 2:3-4 records: But when she could hide him no longer, she got a papyrus basket for him and coated it with tar and pitch. Then she placed the child in it and put it among the reeds along the bank of the Nile. His (Moses') sister stood at a distance to see what would happen to him.
Although Moses was saved from death, he was taken from the river's edge by Pharaoh's daughter to live in the King's palace, and Moses would eventually become Pharaoh's son. It must have been difficult for Moses' mother to have her child taken from her and raised in a pagan home. But, God had a plan. Our sovereign Lord used Moses' placement in the palace to develop his character and skills for future service. Even though Moses lived outside the protective boundaries of his mother, God kept him safe in order to accomplish His purpose.
As parents, no matter how vigilant we may be, we cannot always keep our children safe. For this reason, we should teach our children the following:
We are given no guarantees concerning safety
Those who choose to live outside the will of God, also live outside of His protection (Proverbs 1:29-33, Proverbs 18:10)
Following Jesus doesn't guarantee safety. But those who faithfully walk with Christ can live in peace, knowing that God will use even challenging circumstances for their greater good (Romans 8:28)
Are you continually relinquishing your child to the care of Almighty God, trusting Him for your child's well-being?