Do you have a Digital Video Recorder (DVR)? My favorite aspect of this device is the ability to rewind. If I missed what a person said, want to review a close play at home plate, or view again a particular scene from a movie – no problem; I can rewind it and watch it over and over again. However, no matter how many times I rewind and review a particular clip on T.V. the outcome doesn't change.
The same can be true in daily life. I can replay a scene from real life over and over again in my head. I can attempt to clarify what was said or try to analyze each scenario, but I can't change what happened.
This doesn't mean that we shouldn't examine past events in light of God's Word to see if there are areas that need change. For example, there may be times that the Holy Spirit prompts you to apologize for something you said or the way you acted. While being checked by God's Word and the Holy Spirit are often needed, God calls us to live in the moment rather than in the past.
The apostle Paul wrote to believers at Philippi about this subject. In Philippians 3:12b-14 he writes: I press on to take hold of that for which Christ Jesus took hold of me. Brothers, I do not consider myself yet to have taken hold of it. But one thing I do: Forgetting what is behind and straining toward what is ahead, I press on toward the goal to win the prize for which God has called me heavenward in Christ Jesus.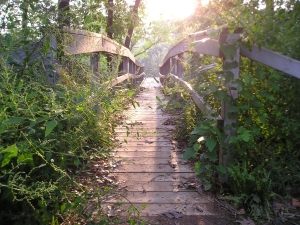 Paul's sight was fixed forward; his focus was heavenward. In the process of the Christian walk, Paul did not allow the past to distract or weigh him down. (And frankly, if anyone could have been distracted by their past – it would have been Paul.)
Instead, Paul chose to guard his mind against the distractions of the past and press forward with intense pursuit toward the very goal for which Christ Jesus called him. Do you allow your mind to wander with thoughts of "what could have been"? Do you allow thoughts of your past to continually interrupt your present?
The apostle Paul recognized that there was great purpose in focusing on those things that He could change, while leaving those things he could not change at the feet of Jesus. Will you choose today to press forward rather than looking back? As you prepare to leave behind 2011 to embrace what is ahead in 2012, seize the opportunity of the new year to practice focusing on the goals of Christ as you press on in pursuit of His will.