Studies show that between the ages of 8-12 months the majority of infants learn to use the word "no". Young children often use this word without considering the response of parents or of those who may be watching, or the potential of hurting the feelings of others.
Something happens, however, to children as they begin to experience more of life. For example, in homes where parents desire obedience, children learn to obey those in authority rather than defy them. As a result of refraining from asserting his or her own will, a child may use the world "no" less often.
In addition, children may choose to agree with teachers, coaches, or other adults out of a desire to please, instead of standing in opposition to them. A child desiring to fit in with peers or conform to his surroundings will also be less likely to disagree with others.
As parents, is there ever a time when we should encourage defiance in our children?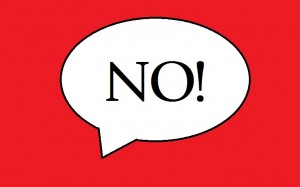 When you consider that the definition of defiance is "the choice to resist an opposing force", the answer to the previous question then depends on "the force".
Titus 2:11-12 tells us: For the grace of God that brings salvation has appeared to all men. It teaches us to say "No" to ungodliness and worldly passions, and to live self-controlled, upright and godly lives in this present age.
What does this verse have to say about defining "the forces" at work in a child's life?
Titus is reminding us that God's grace, working within believers, should produce acts of righteousness. Because righteousness is found only in Christ Jesus, it is His Word of truth that teaches us to distinguish godliness from worldly passions. As parents, we can rely on biblical truth for instruction. Through use of God's Word we can train our children to recognize forces or influences that oppose His truth from those that do not, and teach them ways to respond appropriately.
For instance, a child that opposes an instruction that aligns with biblical precepts should be trained to change his thinking to a mindset that reflects God's Word. On the other hand, a child who is influenced by others to conform in any way to ungodliness or worldly passions should be encouraged to respond with a defiant "No".
As parents, we can be instrumental in helping our children identify potential forces of influence by asking Christ-centered questions: What kind of activities will be going on at the party? In what way is this activity developing friendships honoring to Christ? What was your purpose in choosing this book to read for your school report? What might be some potential temptations in attending this event?
Because our goal, as parents, is to train our children to live self-controlled, upright, and godly lives, we should consistently encourage and support our children's defiance to ungodly influences.